Under £750 Gaming PCs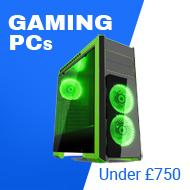 If you are looking to buy an affordable gaming PC, then our £750 gaming PCs range is perfect for you! At 3B Systems, we specialise in gaming PCs and stock a huge range of affordable PCs for under £750. Even though a £750 budget doesn't seem a lot for a gaming machine, each of our gaming computers are built to compete against any premium PC, designed to achieve high FPS and superb graphics in-game. Our selection of PCs is suitable for all game types, including Overwatch, World of Warcraft, League of Legends, Destiny 2, PUBG and Minecraft. View our selection below or in-store today!
Gaming PCs Under £750
With a £750 budget, you can buy a powerful gaming PC, which will have the capacity to run all the latest games with enhanced performance. Each PC is built with the most popular components available on the market, including Intel Core CPU's and NVIDIA GeForce graphics cards.
Second-Hand Gaming PCs Under £750
At 3B Systems, we have a strong following of passionate gamers and YouTubers, who upgrade their PCs on a regular basis. Many YouTubers and gamers trade in their old gaming PC for the latest edition. Therefore, we stock a variety of second-hand gaming PCs for under £750. Browse our website or visit us in our Nelson store for advice on the best second-hand gaming PC to buy.
Key Components to Look at when buying a PC
When looking for a gaming PC to meet your budget, you want to ensure that you find a computer with all the necessary requirements.
PC Case
CPU - You should allocate a large portion of your £750 budget towards a decent CPU
CPU Cooling - AMD processors tend to produce more heat than Intel, so if you have chosen AMD processor then you should look for a suitable cooling system for support
Memory - 8GB memory is enough to run a gaming PC but you should make sure that you have the capacity to increase the memory in future
Motherboard - Any board which can support 16-32GB memory. Ensure that you have multiple USB ports and have expansion slots.
Graphics Card - Latest games use very heavy and complex graphics, so it is very important that your graphics card has the capacity to handle complex graphics
Other components include:
Power Supply
Hard Drive
Optical Drive
Networking
Operating System
Security Software.