Under £500 Gaming PCs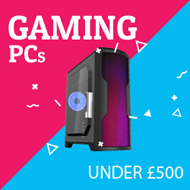 In this day and age, buying a good quality under £500 Gaming PC seems impossible. Not when you choose 3B Systems :). Here at 3B Systems, we build Gaming Computers for every budget.
Your Choices for Under £500 Gaming PC
Performance is the key when it comes to playing online games on your PC. However, £500 budget isn't a lot to buy top of the range gaming PC processors like Intel i9 or AMD Ryzen. It's not doom and gloom though AMD based PCs are affordable and at the same time very reliable for gaming performance.
Gaming PC Under £500
With £500 budget, you will be able to get a powerful mid-range gaming PC which will have the capacity to run all the latest games with high-quality graphics. However, this solution will not include a monitor, keyboard or mouse.
Second User Gaming PCs Under £500
Some gamers like to upgrade their gaming systems on regular basis, especially, the ones who run their YouTube Gaming Channels. Upgrading their Gaming PC gives them the chance to showcase the latest products, components and gadgets. It helps them engage their audience and increase their followings. They trade in their old Gaming PC with latest one, thus giving the gamers with less budget the opportunity to get into PC gaming. 3B Systems has a large stock of second-hand Gaming PCs. Feel free to browse the website or if you know your requirements and would like to customise second-hand PC, speak to our sales team who will be more than happy to assist you in choosing a best second-hand gaming PC.
Key Components to Look at when buying a PC
PC Case - for a budget of £500 you should look into basic PC cases instead of the ones with RGB lighting etc.
CPU - The brain of the computer, you should allocate a large portion of your £500 budget towards CPU.
CPU Cooling - AMD processors tend to produce more heat than Intel, so if you have chosen AMD processor then you should look into a better cooling system
Memory - 8GB memory is sufficient to run a Gaming PC but you should make sure that you have the capacity to increase the memory in future.
Motherboard - Any board which can support 16GB memory, multiple USB ports and have expansion slots will be a perfect match for your £500 PC.
Graphics Card - This is another important component - you need to get this right. Latest games use very heavy and complex graphics, so it is very important that your graphics card has the capacity to handle complex graphics.
Other components include...
Power Supply
Hard Drive
Optical Drive
Networking
Operating System
Security Software