Under £1500 Gaming PCs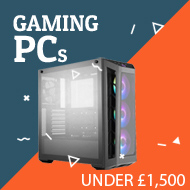 Gaming is fierce and battles are always intense, in which during these heated battles, you need a PC that can give you an incredible gaming experience. With 3B Systems, we build the highest quality and most powerful gaming PCs for under £1500, perfect for hardcore gamers wanting an immense gaming experience. All our PCs have undergone rigorous testing to ensure that you experience quality gameplay every time. For high-end gaming PCs at the right price, view our 3B Systems selection of computers online or in-store.
High-End Gaming PCs
If you are looking to become the master of PC gaming, then it is very important that you own an ultimate gaming machine. This gaming PC will not only give you the edge in online battles but give you an experience from out of this world. At gaming PCs from 3B Systems under £1500 are built for performance, endurance & speed.
With a £1500 budget, you can easily find a powerful gaming PC that will have the capacity to run modern, high-quality graphics video games, such as Dark Souls, Far Cry and Red Dead Redemption.
For £1500, you can easily buy the latest gaming PC. You can buy gaming processors like Intel i7, Intel i9 or AMD Ryzen. To get the best out of your £1500 budget, speak to our in-house PC specialists, who will be very happy to help you to get the best gaming PC for £1500 or under.
PC Repairs and Services
When you buy a gaming PC from 3B Systems, you're guaranteeing yourself to receive 5-star personalised service. If you face any teething problems with your PC, you will be able to speak to the actual engineer who built your gaming PC, so you can ensure any problem is fixed almost immediately. Visit us in-store or contact us online for details.
Custom-Built PCs For £1500
A £1500 budget will also give you the opportunity to custom-build your own gaming computer! We rigorously benchmark all our gaming PC components to ensure you're getting the best PC gaming experience. We build PCs for casual gamers as well as for hardcore gaming experts.
To avoid any hassle, you are welcome to speak to our PC specialists, who will be more than happy to help you select the best gaming PC components.
Key Components to Look at when buying a PC
PC Case - A £1500 budget will achieve a modern-looking and colourful PC case
CPU – You should allocate a large portion of your £1500 budget towards a high-performing CPU
CPU Cooling - AMD processors tend to produce more heat than Intel, so if you have chosen AMD processor, then ensure you have a powerful cooling system
Memory - 16-32GB memory is plenty to run the latest games. You should also make sure that you have the capacity to increase the memory in future
Motherboard - Any board which can support above 32GB memory, multiple USB ports and have expansion slots will be a perfect match for your £1500 gaming PC
Graphics Card – The latest games use very heavy and complex graphics, so it is very important that your graphics card has the capacity to handle complex graphics.
Other components include:
Power Supply
Hard Drive
Optical Drive
Networking
Operating System
Security Software