Under £1500 Gaming PCs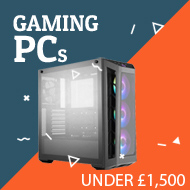 Gaming is fierce and battles are always tense. And during these heated battles, you need a PC which gives you incredible gaming experience. £1500 budget is an excellent budget to buy top of range gaming PC. At 3B Systems, we built our own computers, which means that with your PC would've gone through heavy testing before being dispatched. No one makes better high-end gaming PCs than 3B Systems. Do you think it is hard to believe, then try us?
Your Choices for £1500 Gaming PC
If you are looking to become the master of PC gaming, then it is very important that you own an ultimate gaming machine. This machine will not only give you the edge in the gaming battles rather give you an experience from out of this world. 3B Systems' Under £1500 gaming PCs are built for performance, endurance & speed. This means that just when you need your PC to hang in there, it will not only hang in but help you cross the line as a winner.
For £1500, you can easily buy the latest gaming PC. You can buy gaming processors like Intel i7, Intel i9 or AMD Ryzen. To get the best out of your £1500 budget, speak to our in-house PC specialists, who will be very happy to help you to get the best gaming PC for £1500.
Gaming PCs for £1500
With a £1500 budget, you will be able to buy a very powerful gaming PC, which will have the capacity to run all the modern, high-quality graphics video games. At 3B Systems we build all our own PCs, which gives us the chance to test each and every component before handing over this powerful gaming PC.
Read This - Before Buying a £1500 PC from somewhere else
When you buy a gaming PC from 3B Systems, you're guaranteeing yourself to receive a 5-star personalised service. And if you face any teething problems with your gaming machine, you'll be able to speak to the actual engineer who would've built your gaming machine.
No other online PC Specialist or Computer Shop can offer you this service. This is why our clients always come to us. If you're looking for computers, networking, components or PC Repairs, come to 3B Systems.
Custom Build PCs For £1500
A £1500 budget will also give you the opportunity to custom build your computer. However, to avoid any hassle you are welcome to speak to our PC Specialists, who will be very happy to help you select the best gaming PC components.
We rigorously benchmark all our gaming PC components to ensure you're getting the best PC gaming experience. We build PCs for casual gamers as well as for hardcore gaming experts.
Key Components to Look at when buying a PC
PC Case - with £1500 budget go for a modern looking, colourful PC case.
CPU - The brain of the computer, you should allocate a large portion of your £1500 budget towards CPU.
CPU Cooling - AMD processors tend to produce more heat than Intel, so if you have chosen AMD processor then you should look into the better cooling system.
Memory - 16-32GB memory is plenty to run the latest games, you should also make sure that you have the capacity to increase the memory in future.
Motherboard - Any board which can support above 32GB memory, multiple USB ports and have expansion slots will be a perfect match for your £1500 PC.
Graphics Card - This is another important component - you need to get this right. Latest games use very heavy and complex graphics, so it is very important that your graphics card has the capacity to handle complex graphics.
Other components include...
Power Supply
Hard Drive
Optical Drive
Networking
Operating System
Security Software