Under £1000 Gaming PCs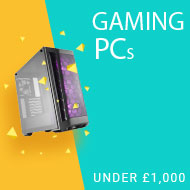 If you are serious about master your gaming skills, then you have come to the right place! At 3B Systems, we have a selection of gaming PCs priced at under £1000, which can achieve high-performance and quality across all PC games and applications you require. We custom-build the latest gaming PCs to deliver enhanced gameplay and to support your every need, which is perfect for hardcore gamers. View our selection of gaming PCs for under £1000 below.
Optimal Gameplay
Every single one of our gaming PCs priced at under £1000 can enhance your PC games for optimal performance. At 3B Systems, we have designed and built each gaming computer to perform exceptionally with high-demanding games, such as Overwatch, World of Warcraft and League of Legends.
You might struggle to get everything from top of the range but £1000 is an extremely good budget for you to purchase machines with Intel i7 or AMD Ryzen processors. It is worth speaking to our in-house specialists who will be able to help you get the best out of your £1000 budget for a computer. Give us a call on 01282 619534 or visit us in our Nelson store today.
Quality Service Every Time
When you buy a gaming PC from 3B Systems, you're guaranteeing to receive a 5-star personalised service every time. If you face any teething problems with your custom-built PC, you can speak to the actual engineer who built your computer for a bespoke solution. Our personalised networking, Microsoft Office and PC repairs services are second-to-none!
Key Components to Look at when buying a PC
PC Case - For a budget of £1000, you should look into PC cases with RGB lighting or a stylish outlook.
CPU – You should ideally allocate a large portion of your £1000 budget towards CPU.
CPU Cooling - AMD processors tend to produce more heat than Intel, so if you have chosen AMD processor then you should find a cooling system that can accommodate for an AMD processor.
Memory – Having 16-32GB memory is plenty to run the latest games. You should also make sure that you have the capacity to increase the memory in the future.
Motherboard - Any board which can support above 32GB memory, have multiple USB ports and have expansion slots will be a perfect match with a £1000 budget.
Graphics Card – Ensure you have a graphics card that can run the latest games and has the capacity to hand complex graphics.
Other components include:
Power Supply
Hard Drive
Optical Drive
Networking
Operating System
Security Software