Under £1000 Gaming PCs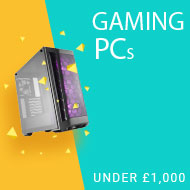 £1000 budget is a very good budget to buy a high-quality gaming PC. At 3B Systems, we specialise in gaming computers and have a huge range of gaming PCs in stock ready to be dispatched. When it comes to delivering a top quality gaming PC for less than £1000, no one can compete against us.
Your Choices for Under £1000 Gaming PC
If you are serious about mastering your gaming skills, then it is very important that you own a gaming machine, which doesn't let you down in the middle of a fierce battle. 3B Systems' under £1000 gaming PCs are built for performance, performance & performance. This means that when you've horns locked into with another gamer, your gaming computer will not let you down.
You might struggle to get everything from top of the range but £1000 is definitely a good budget for you to purchase machines with Intel i7 or AMD Ryzen processors. It is worth speaking to our in house specialists who will be able to help you get best out of your £1000 budget for a computer.
Gaming PCs for Under £1000
With £1000 budget, you will be able to buy a powerful gaming PC, which will have the capacity to run all the modern, high-quality graphics video games. At 3B Systems we build all our own PCs, which gives us the chance to test each and every component before giving it to the customer.
Read this - Before Buying a £1000 PC from someone else
When you buy a gaming PC from 3B Systems, you're guaranteeing to receive 5-star personalised service. And if you face any teething problems with your machine, you'll be able to speak to the actual engineer who would've built your machine.
No other online PC Specialist or Computer Shop can offer you this service. This is why our clients love to use for their computers, networking, MS Office and PC Repairs. Try us once and you'll fall in love with 3B Systems as well.
Key Components to Look at when buying a PC
PC Case - for a budget of £1000 you should look into PC cases with RGB lighting or stylish outlook.
CPU - The brain of the computer, you should allocate a large portion of your £1000 budget towards CPU.
CPU Cooling - AMD processors tend to produce more heat than Intel, so if you have chosen AMD processor then you should look into the better cooling system.
Memory - 16-32GB memory is plenty to run the latest games, you should also make sure that you have the capacity to increase the memory in future.
Motherboard - Any board which can support above 32GB memory, multiple USB ports and have expansion slots will be a perfect match for your £1000 PC.
Graphics Card - This is another important component - you need to get this right. Latest games use very heavy and complex graphics, so it is very important that your graphics card has the capacity to handle complex graphics.
Other components include...
Power Supply
Hard Drive
Optical Drive
Networking
Operating System
Security Software