Latest Gaming PCs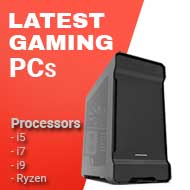 Whether you are looking to spoil a gamer or just want to upgrade your current gaming PC to the latest Gaming PC, you are in for a treat. 3B Systems have all the latest Gaming PCs ready to be dispatched. If you are looking for a PC with speed, reliability and ultra high definition graphics then 3B Systems is the online computer for you.
Latest but Cheap Gaming PCs
You don't have to wait for a bank holiday sale or Christmas to buy the best gaming machine if you buy your computer from 3B Systems. We are by far the cheapest local and online computer store when it comes to buying the latest gaming gear. Whether it is a gaming computer, gaming keyboard, gaming mouse, gaming chair or any other gaming accessory, you'll not find it cheaper than anywhere else.
We aren't just PC Specialists by name, rather, we have been operating our Local Computer Shop as well as our Online Computer Store since 1985. During this time we've custom build thousands of computers for home and business users. However, what we love the most is building the latest gaming PCs.
What makes a Gaming PC, 'Latest Gaming PC'?
Latest, state of the art PC games are coming out every week. Your gaming PC has to be the latest gaming PC for you to maximise the experience of these modern games. From the Assassins Creed Odyssey, DOTA 2, Grand Theft Auto V to Fortnite, Minecraft and PUBG, you'll need the latest computer components to maximise your gaming experience.
It doesn't matter whether you choose Intel or AMD processors, as long as you have chosen the latest computer parts to build your gaming computer, you will enjoy the ultimate gaming experience whilst playing on your favourite games.
5 Things to look for when buying a Latest Gaming PC
Look for these 5 characteristics when buying the latest gaming PC
Design

Coloured Cables, Liquid Cooling, Tempered Glass, latest gaming PC has to have the best look and these features will certainly give you that. Choose from a range of different colours and designs.


Performance

Latest PC wouldn't be considered as latest until it performs at maximum in a pressurised environment. Your latest gaming PC should have a top quality processor, maximum memory, best cooling system and a top of the range motherboard.


Upgradability

Buying the latest gaming machine doesn't mean that it is future proof, rather the best gaming computers are the ones, which have the room for future upgrades.


Ports

Best gaming desktop PCs come with all the necessary ports the latest gaming PC would need. However, to take it to another level if the PC has extra ports or space to add extra ports in future then it makes the PC an ultimate gaming PC. If you need a lot more ports than the standard design, speak to our PC specialists who will be more than happy to provide you a solution you're looking for.


Price

This is where a lot of the deals drop. Unfortunately, buying the latest gaming PCs doesn't come cheap. However, you are guaranteed to get the best deal on any PC or computer part you buy from 3B Systems.