Intel Gaming PCs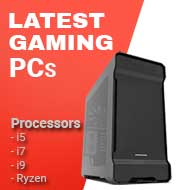 If you're a casual gamer or the one who loves the challenge of modern games, a powerful Gaming PC is a must for you. 3B Systems' range of Intel Gaming PCs will bring the ultimate gaming experience straight into your gaming room.
Enhance Your Gaming Experience with Intel Gaming Computers
From Fortnite, Assassins Creed Odyssey to Battlefield, all these modern games demand systems that are optimised for speed and processing complex graphical textures.
At 3B Systems, we specialise in Intel gaming PCs. For an ultimate gaming experience choose us, with our 25 years' experience in computing, you are guaranteed to find the best gaming PC.
Why choose an Intel gaming PC?
Intel has been a very reputable expert in developing and manufacturing powerful processors. With their cutting-edge technology, Intel processors outperform its competition.
Intel Gaming PC CPUs
A powerful CPU is must when it comes to a high-end gaming computer. Intel certainly offers a wide range of CPUs ideal for a gaming PC. The Intel Core Processor range including i3, i5 and i7 have been built for speed, performance, reliability and at the same time-saving cost on energy usage.
What specs do I need for an Intel gaming PC?
There are plenty of things you need to look for when choosing a gaming PC. However, if there is one piece of hardware the key to the performance of the PC is the power of your CPU. Fortunately, Intel processor has exactly that i-e they are built for the speed and performance. Other things to keep in mind for an Intel gaming PC are...
Motherboard
RAM
Hard drive
Video/graphics card
Case
Power supply
Monitor
Keyboard
Mouse
Gaming controls (if applicable)
Can't Find Your Ultimate Intel Gaming PC
We have a vast range of Intel Gaming PCs in stock, however, sometimes you might be looking for the one no one else has. If you cannot find your ultimate gaming PC online, get in touch with us and we will happily build, your ultimate gaming PC within your budget.