Gaming PCs Sale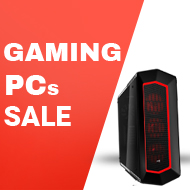 Gaming consoles are nice and seems a good piece of gaming equipment to buy. However, if you want to enjoy the ultimate gaming experience with 4K display such as for games like Assassin's Creed Odyssey and Battlefield 5 then choosing a PC from our special Gaming PCs Sale event would be the perfect option for you. Here you'll find latest gaming PCs on offer.
Computers Sale
Buying a computer for your home or business might seem a daunting task. And at the same time feels like you'll have to spend a lot of money to buy a top of the range PC. This is not the case anymore. We have a huge range of PCs on sale here and at 3B Systems we always put offers on computers and laptops to give customers the chance to buy latest computers on low budget.
Cheap Computer doesn't mean it lacks Performance
Buying a computer on sale or buying a cheap computer online doesn't mean that you are compromising on performance. At 3B Systems, our PC specialists have tested every single computer in this section, they've test the computer by running popular PC games and bench-marked each machine to be suitable for demanding games.
As well as the Gaming PCs on sale here, we have a huge range of PCs for various budgets. We build PCs for every budget, so whether your budget is £500, £750 or £1000, you will be able to buy a top of the range PC from 3B Systems.
Plenty of Options to choose from
Our gaming PCs on sale range include PCs under £500, Under £750 PCs as well as Intel and AMD gaming PCs. If you still cannot find the PC you would like then you can custom build your PC within your budget. Speak to our one of our computer expert who will be very happy to help you choose the best computer parts.
We also do Second User PCs
If you know any professional gamers you'll know that how often they upgrade their PCs. On average professional gamers upgrade their gaming PCs between 1-3 years. 3 years old gaming PC is still very powerful machine especially if you are just starting playing PC games.
As well as playing games our second hand PCs are perfect match for day to day tasks like creating documents in MS Word, setting up spreadsheets in Excel or creating awesome looking presentation in PowerPoint. As well as running Microsoft Office these computers are very good for graphics design and internet surfing.