Gaming PCs Sale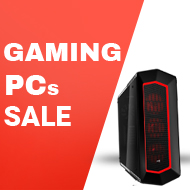 Buying a computer for your home or business might seem like a daunting task and an expensive one at that! But with 3B Systems, we have a selection of affordable gaming PCs, home computers and laptops on offer ready for you to take home today in-store or with next day delivery online. See what great deals we have on our gaming PCs below.
Great Performance at Low Prices
Buying a computer in the sale doesn't mean that you are compromising on performance. At 3B Systems, our PC specialists have tested every single computer by running popular PC games and benchmarked each computer to be suitable for various performance demanding games.
As well as our PC gaming deals, we build PCs for every budget, so whether your budget is £500, £700, £1000 or £1500, you will be able to buy a top of the range PC from 3B Systems.
Plenty of Options to choose from
Our gaming PCs on sale range include PCs under £500, Under £750 PCs as well as Intel and AMD gaming PCs. If you still cannot find the PC you would like, then you can custom build your PC within your budget. Speak to one of our computer experts who will be very happy to help you choose the best computer parts.
Second-Hand Computers
On average, professional gamers upgrade their gaming PCs between 1-3 years. A 3-year-old gaming PC is still a powerful machine, especially if you are just starting to play PC games.
As well as playing games, our second-hand PCs are the perfect match for day-to-day tasks, whether it is using Microsoft Office to prepare for a presentation at work, creating graphic design work in Adobe Creative Cloud or simply browsing the web. Find out more online or visit us in our Nelson store to speak to a member of 3B Systems.