Best Gaming PCs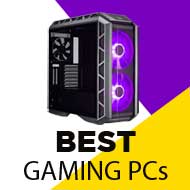 Before buying a gaming PC, first, ask yourself this question. What PCs are considered as the Best Gaming PCs out there? The short answer is; any PC which provides speed, reliability and ultra high definition graphics will be considered as the Best Gaming PC.
3B Systems - Building Best Gaming PCs for Decades
When you are looking to buy the best gaming PC online, you'll come across hundreds if not thousands of online retailers and PC Specialists who sell gaming computers. However, the missing factor from these online PC specialists is the personalised service. At 3B Systems, we have been operating our Local Computer Shop as well as our Online Gaming PC Store since 1985. During this time we've built thousands of computers for home and business users, but our favourite category has always been building Best Gaming PCs.
What makes a Gaming PC, 'The Best Gaming PC'?
Latest, state of the art PC games are coming out every week. Your gaming PC has to be amongst the elite category of best gaming PCs. From the Assassins Creed Odyssey, DOTA 2, Grand Theft Auto V to Fortnite, Minecraft and PUBG, you'll need the best gaming computer to maximise your gaming experience.
It doesn't matter whether you choose Intel or AMD processors, what makes any computer the best gaming computer is the combination of all the components. Our best gaming PCs are built with the best computer parts. The main focus at the time of building gaming PCs was performance and speed.
5 Things to look for when buying a Best Gaming PC
Before you invest your money in a new gaming system, make sure you consider the following 5 things.
Design

Coloured Cables, Liquid Cooling, Tempered Glass, the best gaming PC has to have the best look as well. Choose from a range of different colours and designs
.
Performance

The best gaming PC has to be the best performing PC which performs at best under pressured environments. Your best gaming PC should've a top quality processor, maximum memory, best cooling system and a top of the range motherboard.


Upgradability

Buying a best gaming PC doesn't mean that it is future proof, rather the best gaming computer is the one which has the room for future upgrades.


Ports

Best gaming desktop PCs come with all the necessary ports a modern gaming PC would need. However, to make to take it to another level if the PC has extra ports or space to add extra ports in future then it makes the PC an ultimate gaming PC. If you need a lot more ports than the standard design, speak to our PC specialists who will be more than happy to provide you a solution you're looking for.


Price

This is where a lot of the deals drop. Unfortunately, the best gaming PCs don't come cheap. However, you are guaranteed to get the best deal on any PC or computer part you buy from 3B Systems.
We also do Second User PCs.
On average hardcore gamers upgrade their gaming machines between 1-3 years. 3 years old gaming PCs are still very powerful. You could easily complete your day to day tasks like creating documents in MS Word, setting up spreadsheets in Excel and creating an awesome looking presentation in PowerPoint. As well as running MS Office these machines are very good graphic design, internet surfing or even playing online games. Visit our second user section to find out the second-hand PC suitable for your needs.