AMD Gaming PCs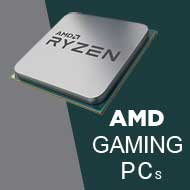 You can step into the virtual world of PC gaming without breaking your bank. AMD processors are very powerful. They deliver higher clock rates, more cores and more cache memory, whilst keeping the cost low. 3B Systems' stocks a huge range of AMD Gaming PCs, our AMD gaming computers will bring the immersive gaming experience straight into your gaming room.
Master the Art of Gaming with AMD Gaming Computers
From Fortnite, Assassins Creed Odyssey to Battlefield, all these modern games demand systems which are built for speed, performance and most of all processing complex graphics.
3B Systems specialises in AMD gaming PCs. To master the art of modern gaming and for ultimate gaming experience choose us. With our 25 years' experience in computing, you are guaranteed to find the best gaming PC you are looking for.
Why choose an AMD gaming PC?
In recent years, AMD has a revolutionary computing industry with the introduction of CPU and GPU in one chip. This has made the Gaming PCs more affordable whilst keeping the standards of performance high.
Historically, on-board CPU's didn't use to offer any significant gaming performance, however, with the latest AMD gaming processors, the wheel has been re-invented. Now with AMD gaming computers, you can easily play games like Fortnite, Battlefield and Fallout.
AMD Gaming PC CPUs
To achieve the best PC gaming experience, you have to have a powerful CPU in your gaming computer. AMD certainly offers the industry best CPUs perfect for speed, reliability and performance. The latest range of AMD CPUs includes Ryzen 3, Ryzen 5, Ryzen 7 and Ryzen Threadripper. Latest of these is the perfect CPU for professional gamers.
What specs do I need for an AMD gaming PC?
These days building an AMD gaming PC is very simple. You can easily buy all the computer parts and assemble it yourself. At 3B Systems we stock all the computer parts at affordable prices. The key components you need compare with other gaming computer models, when purchasing the best gaming computers are...
CPU
Motherboard
RAM
Hard drive
Video/graphics card
Case
Power supply
Monitor
Keyboard
Mouse
Gaming controls (if applicable)
Can't Find Your Best AMD Gaming PC
We have a huge stock AMD Gaming PCs in stock, however, sometimes you want 'The Best Gaming PC' but the models on display don't offer that. Don't worry we can build a custom gaming PC for you. Get in touch with us and we will happily build for you 'The Best Gaming PC'.