Gaming PCs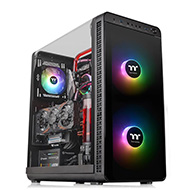 Every gamers dream is to own the ultimate and most powerful gaming PC. At 3B Systems, we are gaming PC specialists, with a skill for creating hand-built, custom-designed gaming PCs for the ultimate gaming experience. Whether you are a novice or a gaming beast, don't worry as we have custom-built PCs suitable for gamers of all skill levels! Find your ultimate gaming PC from 3B Systems for an enhanced and immersive gaming experience every time.
Need a Gaming PC today?
Are you thinking of starting a new battle or joining your friends for an online gaming marathon? Do you need a PC urgently or within the next 48 hours? We have many pre-built gaming PCs in-store in Nelson ready to be picked up or for urgent delivery. Contact us today for more details.
Hand-Built Gaming PCs
Our gaming PCs are perfect for high-performance gaming experiences for any individual. Our in-store specialists will work closely with you to custom-build your dream gaming PC, allowing you to choose every component. We can customise your gaming PC to include your choice of:
- case and colours
- processors
- motherboards
- memory
- graphics card.
3B Systems stocks the best gaming PC components from a range of brands such as Intel, AMD and NVIDIA GeForce. So, if you want a custom-built gaming PC, call us today on 01282 619534 and we will put a quote together for you.
Expert PC Technicians
Every gaming PC undergoes rigorous testing, under the supervision of our expert PC technician team. This is to make sure that each gaming PC achieves the same unrivalled performances during gameplay.
If you ever get stuck or need assistance with your gaming PC, our PC technicians are just a phone call away. Alternatively, you can visit us in our Nelson store for same-day PC technical support.
5 Things to look for when buying a Gaming PC
Before you invest your money in a new gaming system, make sure you consider the following 5 things.
Design
From coloured cables to liquid cooling to tempered glass, whatever your choice is, make sure you choose a design which is nice in look and is future proof. 3B Systems can custom design your gaming PC with your needs and requirements in mind to create something on the next level.
Performance
When buying a gaming PC, performance must be the ultimate factor. You need to make sure you choose a PC with a top-quality processor, memory, cooling system and motherboard. With 3B Systems, we build top quality PCs every time, using the highest performing PC components on the market.
Upgradability
A gaming PC is an investment and you want to make sure that your computer can be used for many years to come. Therefore, it is important to choose a gaming PC which has the potential for upgrades for the future. With 3B Systems, we can help you choose the perfect component upgrades based on your computer at any given time, either in-store or online.
Ports
With a gaming desktop, the more ports it has the better it is. Between monitors, peripherals and VR headsets, you're going to need a system with a least 6 USB ports, 3 Display Ports and an HDMI port. If you need more ports than the standard design, speak to our PC specialists who will be more than happy to integrate more ports into your computer design.
Price
Obtaining a PC in your price range can be difficult. Fortunately for you, 3B Systems have gaming PCs to meet every budget. For serious PC gamers, we can build high-end gaming PCs, but if you are a novice, then we also have the option of choosing a low budget or second-hand gaming PC. Nevertheless, each gaming computer will enhance your gameplay and improve performance in your price range.