Gaming PCs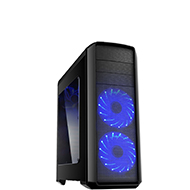 Every gamer's dream is to own the ultimate, the most powerful Gaming PC. In today's market finding the best gaming PC seems a very hard job, but if you choose 3B Systems for your gaming computer then the job becomes easier. We are Gaming PC specialists and have computer systems for all gamers. Whether you've just started playing the PC games or you're the master of the art of playing PC games, we have the ultimate gaming machine for you.
Need a Gaming PC Now
Are you thinking of starting a new battle, or of joining your friends for an online gaming marathon and you need a PC now or within the next 48 hours? We have many pre-built gaming PCs in store ready to be picked up from the store or for urgent delivery.
Custom Build Gaming PCs
3B Systems stocks the best gaming PC components, so if you're in need of a custom build gaming PC, call our store and we'll put a quote together for you. Our gaming PCs are perfect for high-performance gaming experiences for any individual. We can help you build a bespoke gaming PC that will allow you to choose every component.
We can customise your Gaming PC from the parts like Case, LED colour, Cable colours to processors, motherboards and memory.
Expert PC Technicians
Every gaming PC undergoes a vigorous testing routine during and after its building under the supervision of our expert PC Technician team. This is to make sure that all our PCs achieve the unrivalled performances during the play.
If you ever get stuck or need assistance with your gaming PC, our PC technicians are just a phone call away.
5 Things to look for when buying a Gaming PC
Before you invest your money in a new gaming system, make sure you consider the following 5 things.
Design
Coloured Cables, Liquid Cooling, Tempered Glass whatever is your choice, make sure you choose a design which is nice in look and is future proof. 3B Systems can give your gaming PC a look of your choice.
Performance
This is the key. When buying a gaming PC, performance has to be the ultimate factor. Make sure you choose a PC with a top quality processor, memory, cooling system and motherboard.
Upgradability
You want your PC to be future proof for many years to come. This is why it is important to choose a gaming PC which has the potential for upgrades for the future.
Ports
With a gaming desktop, the more ports it has the better it is. Between monitors, peripherals and VR headsets, you're going to need a system with a least 6 USB ports, 3 Display Ports and an HDMI port. If you need a lot more ports than the standard design, speak to our PC specialists who will be more than happy to provide you with more ports.
Price
This is where a lot of the deals drop. Fortunately, not when you choose 3B Systems. We have Gaming PCs for every budget. For PC gaming pros we can build high-end Gaming PCs. But if you are new to the PC games then we also have the option of choosing a second-hand gaming PC for you become a PC gaming expert.