AMD Built PC Base Units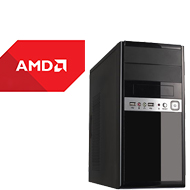 AMD offers a range of processors that delivers really value for your money, with up to 8 cores and higher core speeds compared to Intel models. AMD have a smaller lower market share, but AMD are always striving to innovate and bring something different to the market. AMD has a range of processors which is aimed at home PC and gaming PC users. Choose from FM2®, FX®, AM1® & AMD® RYZEN® technologies.
There are no products matching the selection.