AMD AM4 RYZEN 3000 series CPU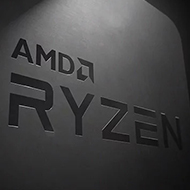 The CPU is an important component in a computer. It's responsible for processing instructions and controlling the other components. Many CPUs include basic on-board graphics too so you can power a display without needing a separate graphics card. AMD's new performance Ryzen processors offer a wide range of models suited to different tasks and budgets. Before buying, ensure you've got a compatible motherboard and a cooler that can take the heat.
Upgrade your desktop to Ryzen™ 3000 Series processors
Engineered to inspire and empower gamers, streamers, and creators. AMD's Ryzen™ 3000 Series processors, the most advanced1 desktop processors in the world, don't just perform, they are designed to win.
Ultimate Performance
Higher speeds, more memory, and wider bandwidth than the previous generation. 3rd Gen AMD Ryzen™ processors with the 7nm "Zen 2" core2 sets the standard for high performance: exclusive manufacturing technology, historic on-chip throughput, and revolutionary overall performance for gaming. From the beginning AMD's 3rd Gen Ryzen™ processors were designed with this philosophy, to break expectations and set a new standard for high-performance gaming processors. That's exactly what it does.
Unrivaled Technology
3rd Gen AMD Ryzen™ processors are built using the world's most advanced 7nm manufacturing technology. Paired with Wraith coolers, AMD Ryzen™ processors deliver game-winning performance while keeping your system astonishingly cool & quiet. Ryzen processors neural-net intelligence can adapt to your workload. That's the advantage you gain when you own the world's most advanced processor for gaming.
Extraordinary Innovation
3rd Gen AMD Ryzen processors feature support for the world's first PCIe® 4.0 connectivity, to enable the most advanced motherboards, graphics, and storage technologies available. The 3rd Gen AMD Ryzen™ processors are also backwards compatible4 with previous generations of motherboards, offering unprecedented value and uncompromising performance.
1080p gaming Starts here
As part of the Ryzen 3000 series, 2nd Gen AMD Ryzen™ desktop processors with Radeon™ graphics feature fast graphics. Combining the powerful Ryzen™ processor with potent Radeon™ graphics for high performance gaming, all without the need for a separate graphics card. Get a 2nd Gen AMD Ryzen processor with Radeon graphics to join the millions of PC gamers worldwide.